This site debuted on April 9, 2010 as a means to share my interests. My interests encompass a variety of disciplines within the technology space, project management, leadership, and life coaching.
Work Life
I am a service owner for 60 business services that support the software engineering community at Nokia Siemens Networks. The business services encompass over 2,000 tools used by the software engineers to develop products for our customers.
Author
I authored the book - Suddenly a Caregiver. The book shares my family's experience and lessons learned to help you through the unexpected responsibility of becoming a family caregiver. The lessons learned include advocacy, caregiver concerns, organizational helpers, grieving, and a variety of other topics while caring for my wife who was diagnosed with glioblastoma multiforme - a stage 4 brain cancer.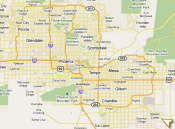 Queen Creek, Arizona
I live in Queen Creek, Arizona. Queen Creek resides in the Valley of the Sun, aka Phoenix metropolitin area. I have called Arizona home since 1975. While I served in the military, I lived in Denver, Colorado and Hanau, Germany but returned to Arizona following that service.
About Me
Technology is a passion, which started in early childhood. I enjoy learning, reading, experimenting within the many discplines related to technology and development.
I also spend a great deal of time sharing my learning experiences and mentoring others in their learning journey.
This site represents an extension of the sharing process.